Internet Radio: The World of Radio on your Computer!
Internet Radio offers you the entire world right on your computer! Many stations also offer an over-the-air counterpart, but there are many that do not. Internet radio is also know as web casting or as streaming media, since you are not actually downloading the content. Pod casting is another popular way of listening to audio, but involves downloading media files to your computer and then listening to them using audio software like Windows Media Player.
Major audio networks like Clear Channel offers streaming radio internationally to listeners! Other networks like CBS Radio and Citadel Broadcasting also offer international streaming of news, talk, sports and lots of different genres of music.
Internet radio usually streams using a lossy (compressed multimedia file) audio codec and has a slight time delay called lag when listening, but this delay does not affect the quality of the audio. Lossy audio compression involves stripping away unneeded sound in audio such as silence, high and low frequencies, to reduce the amount of data in the file so it can be streamed more easily over the internet. Programming is offered in many different audio formats including the MP3, Windows Media Audio, RealAudio, Ogg Vorbis, HE-AAC and accPlus formats.
Internet Radio Stations
www.Pandora.com offers a unique twist in the streaming content world and calls itself the "Music Genome Project". Either choose other listeners custom radio stations or make one of your own! You can choose the song or artist's name and stream to your computer or preferred internet radio hardware device.
In the year 2000, Pandora's team of fifty musician-analysts, started analyzing music just one song at a time. By studying and collecting over 400 music attributes on each song such as, a recordings magical sound, melody, harmony, instrumentation, rhythm, lyrics, vocals and tempo, they created a method to suggest similar styles of music that you might enjoy listening to. Pandora offers a free version with commercials or a commercial-free version for a fee.
Radio stations from around the world stream their shows on the internet. Below, I have listed several popular internet radio stations and networks, but keep in mind that there are more than 16,000 individual stations that are impossible to list here!
www.live365.com
has a huge selection of music genres for every listening taste. You will also find many stations that stream at 128 k, but you must upgrade your account for this feature.
Internet Talk Radio Sites
Big Media USA website
Web Talk Radio website
Voice America website
Blog Talk Radio website
wsRadio website
BBSRadio website
Internet Radio Stations from Around the World...
General
ABC NewsRadio - Australia
Life FM - Adelaide, Australia
Fresh FM - Adelaide, Australia
RTRFM - Perth, Australia
FOX FM (Melbourne), Australia
SA FM - Adelaide, South Australia, Australia
104.1 Territory FM - Darwin, Northern Territory, Australia
Radio New Zealand
Canadian Broadcasting Corporation/Television Radio Canada
CTV - Canada
CityPulse 24 - Canada
HMWN - Canada
Star Ray TV - Canada
CHEV - Canada
National Public Radio - United States
Radio Disney - United States
Radio Maria (USA)
Voice of America
WMMT (FM) - United States
Deutsche Welle - Germany
Radio Nacional de Espana - Spain
Ananova
Radio Rai - Italy
Radio France - France
Sveriges Radio - Sweden
France Televisions - France
Oui FM - France
YLE - Finland
ERT - Greece
RFI - France
Danmarks Radio - Denmark
Radio Netherlands
Rai News 24 - Italy
Slam!FM - Netherlands
AME Info Business Features/Music
Arutz Sheva - (Israeli Nationalists Radio)
Israel Broadcasting Authority
Jerusalem Post Radio
Israel Defense Forces Radio
Galgalatz - (Israeli music and entertainment network, operated by the Israel Defense Forces)
China Radio International
Radio Television Hong Kong
3KND - Australia
WRocK Online - Philippines
Radio Ekattor-Bangladesh
BBC
BBC Radio 1
BBC Radio 2
BBC Radio 3
BBC Radio 4
BBC Radio 5 Live
BBC 6 Music
BBC Radio 7
BBC Radio 1 Xtra
BBC Radio 5 Live Sports Extra
BBC Asian Network
BBC Local Radio - England and the Channel Islands
BBC Radio Foyle - Northern Ireland
BBC Radio Ulster - Northern Ireland
BBC Radio Nan Gaidheal - Scottish Gaelic
BBC Radio Scotland
BBC Radio Cymru - Welsh
BBC Radio Wales
BBC World News - Television
BBC World Service
BBC News
BBC Parliament
Radio France
FIP
France International
France Info
France Culture
Le Mouv
France Bleu
France Musique
Indian Internet Radios
Radio Maska
www.in.com
MyOpusRadio.com
RadioJoyAlukkas.com
Raidio Teilifis Eireann
RTE Radio 1 (music and speech based broadcasting)
RTE 2fm (rock and pop music station)
RTE lyric fm (classical music plus jazz, world music and arts)
RTE Raidio na Gaeltachta (the Irish language station targeted at the Gaeltacht, and the Irish language-speaking community of Ireland)
RAI - Radiotelevisione Italiana
Rai Radio Uno (News/Talk)
Rai Radio Due (Adult contemporary music)
Rai Radio Tre (Classical music)
Rai Sender Bozen (in German language)
Satelradio
Weather
Current affairs
Entertainment and Music
Community/public/campus/college/university stations
CHSR-FM
CIUT-FM
CJRT-FM
CJSF-FM
CJSR-FM
Claremorris community radio
Fresh Air (Edinburgh)
KBAQ
KCMP
KCRW
KDVS
KEXP
KFAI
KFJC
KGNU
KKJZ
KNAU
KNHC
KJHK
KSDT Radio
KMST
KTEQ
KTU radio Gaudeamus
KTUH
Kube Radio
KUMD
KUMM
KUOM
KUSF
KUVO
KVSC
KVMR-FM
KWUR
KZSC
LSRfm.com
Surge
The X KXRX
WBUL
WCPE-FM
WEFT
WERS
WESU
WETS-FM
WFMU
WHRW
WKNC-FM
WKSU
WKUF-LP
WMBI-FM
WMHB
WHUS
WORT
WREK
WVYC
WXPN
WZBC
Xtreme Radio
Religious Stations
KLOVE
Mormon Channel
Vatican Radio
Tourist/Park information stations
Corporate owned stations
CFOX-FM
KDFC
KFOG/KFFG
KPIG
KXXR
WBLK
WKBF
WMMQ
WMEZ
WSM (AM)
WTAM
WXBM
Virgin Radio
CBS owned stations
CSTV XXL
KAMP-FM
KCBS
KCBS-FM
KCMD-AM
KDKA
KEZK
KFRC-FM
KFRG
KFWB
KHJZ
KHTK
KILT
KILT-FM
KIMN
KINK
KITS
KJAQ
KJKK
KLLC
KLTH
KLUC
KLUV
KMLE
KMOX
KMPS
KMVK
KMXB
KNCI
KNX
KOOL
KPTK
KQJK
KRLD
KRLD-FM
KROQ
KRTH
KSCF
KSFM
KTWV
KUFO
KUPL
KVFG
KVIL
KWLI
KXFG
KXJM
KXKL
KXNT
KXTE
KYCY
KYDZ
KYKY
KYMX
KYW
KYXY
KZJK
KZOK
KZON
KZZO
WAOK
WBBM
WBBM-FM
WBCN
WBZ
WCBS
WCBS-FM
WCCO
WCKG
WDOK
WDSY
WDZH
WFAN
WFNZ
WHFS
WINS
WIP
WJFK-FM
WJMK
WJZ
WKQC
WKRK
WLIF
WLLD
WLTE
WLZL
WNCX
WNKS
WODS
WOGL
WOMC
WPGC
WPGC-FM
WPHT
WQAL
WQSR
WQYK
WQYK-FM
WRBQ
WRCH
WSCR
WSJT
WSOC-FM
WTIC
WTIC-FM
WUSN
WVEE
WWFS
WWJ
WWMX
WXRK
WXRT
WXYT
WXYT-FM
WYCD
WYSP
WYUU
WZGC
WZLX
WZPT
Internet-Only
1Radio.org
96.5 The Noize
ABC DiG
AccuRadio
Afterhours.FM
All Urban Radio
AOL Radio
Campus Radio Online
Dandelion Radio
Deezer
DWXB-FM
East Village Radio
FatCat Radio Network
Fearless Radio
Filth FM
Forge Radio
Frequence3
Goom Radio
GridStream Productions
Groovera
Grooveshark
Hitz Radio
Iceberg Radio
Jammer Direct
KNAC
Kube Radio
Last.fm
Live365
MeeMix
Musicovery
Pandora
radioio
Radio23
Radio MAQAM
New Normal Music
Radio Maska
Radio Paradise
RadioVeRVe
Radioseven
Rhapsody
RauteMusik.FM
Retro Rewind
Rinse FM
SHOUTcast
Slacker
Solace.fm
SomaFM
Stitcher Radio
Subcity Radio
The Growl
VirtualDJ Radio
Yahoo! Music Radio
Whole Wheat Radio
Wight FM
WOXY.com
WTNR Radio
WYRR
Radio Ekattor
Internet Radio Stations for the Blind and Handicapped
Visit www.blindradio.com!
There's a great website called www.blindradio.com which offers an easy to read high-contrast page that's easier for the visually impaired to read. They offer thousand of online radio channels from around the world to all listeners.
When I was in high school, I worked as a Technician in the audio department of the Idaho State Library duplicating audio books, magazines and textbooks for the blind and handicapped. An audio version of Playboy magazine was even available to library patrons. I believe a service like this is fantastic and I applaud the great service they provide to help others in need! It's a great service even if you don't have vision or other health issues.
Wi-Fi Internet Radio Devices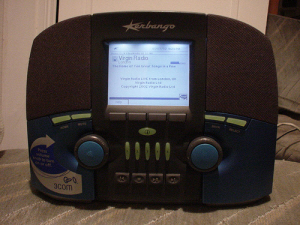 Image courtesy of James Cridland
An Internet Radio Device, also known as a network music player, works much like a portable radio and streams content using your wireless home network (Wi-Fi) or wired Ethernet connection. Save your favorite internet radio stations using presets, much like you do with your home or car stereo.
A lower cost alternative is to use a wireless FM radio transmitter to stream audio to a terrestrial FM radio tuner. You connect a device to your computer and use a FM radio, such as in your stereo, to listen to your favorite content in other rooms of your home.
Internet Radios are manufactured by many different companies and come in many different styles with most being table-top models. Prices start at around $100 dollars and go up to around $300 dollars. I have listed several radios below to give you an idea of the many features and options available.
Sangean RCR-8WF - Internet WIFI Clock Radio
WIFI Radio and Desktop Radio
Product Specifications:
Internet Radio (Requires internet connection to operate)
FM-RDS
Aux In / Line Out
Headset/Earphone Jack
2 Timers
Plug and Play
10 Preset Stations
Sleep/Snooze Timers
Access to over 16000 internet stations
Upgradeable software via internet
Wireless connection ONLY - No hardwire RJ45 port
Information display
Search by country, genre and favorites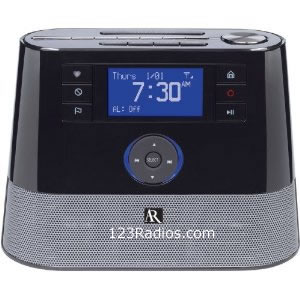 Audiovox ARIR200 - Internet WIFI AM/FM Radio
WIFI Radio, Desktop Radio and AM FM
Product Specifications:
Internet radio and AM/FM radio
Thousands of music and talk stations
Built-in WiFi
Simple online setup and activation
Free Slacker Personal Radio, Weatherbug, and Personal Portal account
Sources include Slacker, Internet Radio, AM and FM radio
Use Slacker Personal Radio to create personalized music stations
Slacker includes millions of tracks, hundreds of music genre stations and over 10,000 artist stations
Pause or skip at any time with Slacker
6 preset stations per source
On demand weather
Get 1 day and 3 day weather forecasts
Record up to 512MB of audio using the internal memory
Record from internet radio or FM radio
C. Crane CWF - CC WiFi Internet Radio w/Clock/Alarm
WIFI Radio, Desktop Radio and Clock/Alarm
Product Specifications:
The CC WiFi combines straightforward style with over 11,000 radio stations
Excellent audio in a small footprint
Headphone jack and a line-out for external speakers
99 memory presets
Works with Pandora, AUPEO, Live365
Integrated alarm clock
Ethernet port connection
I have found a laptop computer great for streaming content to stereos in other rooms of your home and it's also very easy to hook up! RCA audio jacks are made specifically for this purpose with one end connecting to audio out on your computer and the other connecting to audio in on your stereo.
Internet Radio Apps
Windows Media Player
Windows Media Player is one of the best known internet media players available and included with all Microsoft operating systems, like Windows XP or Windows 7. You can literally listen to thousands of terrestrial radio stations and internet only radio stations from around the world. You are also able to watch streaming videos, listen to compacts discs or rip and play MP3s just to list a few functions and best of all it's free!
Winamp
I listened to my first MP3 audio music file with a downloaded copy of the Winamp music player back in 1997. Winamp also offers streaming video and audio, all in one easy to use program. One feature I really like about Winamp is the ability to choose my streaming quality and Featured services including SHOUTcast Radio, OurStage Radio, and the Spinner MP3 of the Day. You have the option of purchasing Winamp Pro to get more features, but you can also download and use it for free too!
Winamp Pro Benefits
Unrestricted CD Burning & Ripping
MP3 Encoding to make your own MP3s
High Bitrate AACPlus Encoding up to 256kbps
MPEG-4 (HD) video support
Cost: $19.95
Other Internet Radio Apps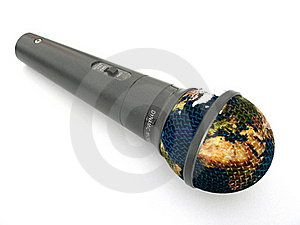 ALLPlayer
Amarok
aTunes
Audacious
Audion
Beep Media Player
CDPlayer
cmus
Cog
Creative MediaSource
Decibel Audio Player
Exaile
Flash MP3 Player
foobar2000
JuK
Listen
Media Jukebox
MediaMonkey Standard
MediaMonkey Gold
MediaMonkey Lifetime
MediaMonkey Lifetime
Music on Console
Music Player Daemon
MusicBee
musikCube
Napster
QuickPlayer
Rhapsody
Rhythmbox
Sonique
Style Jukebox
UADE
XMMS
Zinf
Streaming Internet Radio Quality
Internet Radio sound quality varies greatly from station to station, the higher the (kilobits per second) kbps, the better your sound will be. Winamp breaks down stations by quality, which makes it convenient to find great sounding music without wasting your valuable time!
Common Internet Radio Streaming Qualities
28kbps
56kbps
128kbps
320kbps
My Conclusion...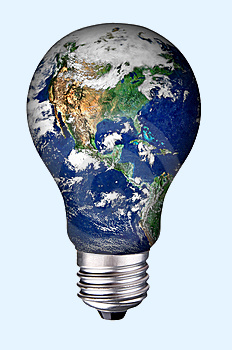 Internet Radio has come a long way since the early days of the internet! You have the whole world to choose from to find the audio programming you enjoy listening to the most. I would try the free audio players first like Windows Media Player, before paying for a program, to determine if you actually need advanced features.
I personally enjoy listening to the Coast To Coast AM radio program (coasttocoastam.com with George Noory) which is on late at night, but I'm unable to stay up that late at night to listen. Fortunately, I have the options of downloading archived shows, streaming the live program using Windows Media Player or listening live anywhere in the world!
It's never too late to get your feet wet and discover a whole new world of entertainment possibilities which Internet Radio provides!
If you finished reading about "Internet Radio", visit my Home Page
Custom Search