Direct TV NFL Ticket (Directv NFL Sunday Ticket) delivers the most NFL games available anywhere!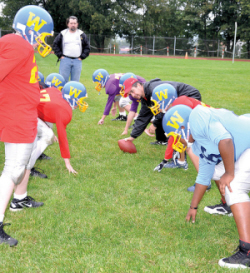 Image courtesy of familymwr
The Direct TV NFL Ticket (NFL Sunday Ticket) was launched in the fall of 1994 and made available to Direct TV and C-band/Ku-band satellite equipment owners.
Get the NFL Sundat Ticket!
Direct TV owns exclusive rights of the NFL Sunday Ticket in the United States to the end of the 2014-15 football season. This package is sold exclusively to Direct TV subscribers. Direct TV Customers are offered a free preview every year during the opening week of the NFL season. All NFL Sunday Ticket games are offered in HD.
Get all the Details with Direct TV NFL Ticket Features:
Superfan
The Superfan add-on package includes high definition games and is now offered for free to Sunday Ticket subscribers as of 2010. The Superfan used to cost Customers about $100 per year. All NFL games are now offered in HD.
Game Mix
This feature allows you to view 8 games at once, game scores, current quarter and time remaining in the game.
The Red Zone Channel
The Red Zone lets you switch to various games as interesting plays are happening, such as key turnovers and scoring plays. The channel is hosted by Fox's Andrew Siciliano and offered on various airlines like Jet Blue.
DIRECTV SUPERCAST
Provides the option of streaming a game to your cell phone or computer.
Short Cuts
Offers game recaps of all games in 30 minutes or less. 2 channels are used for this feature, one for AFC games and one for NFC games. Game highlights are available from Sunday evening through Sunday morning.

NFL Sunday Ticket To Go (formerly Supercast)
Enables viewers to stream live games to a cellphone or computer. This service is also available to non-Direct TV Customers in Manhattan who are unable to get a satellite signal due to technical issues or landlord restrictions.
Highlights on Demand
An on-demand feature which allows Direct TV subscribers to receive a three to four minute recap of all Sunday Ticket games using an interactive DVR receiver and is viewable on channel 1005.
The NFL Network
The NFL Network provides news and information on live games, game previews, press conferences, fantasy football and game replays during the NFL preseason.
Player Tracker
Provides "Big Play" player alerts on up to 18 players , on all Sunday Ticket Channels.
Enhanced Games
Shows live updates, current scores, team stats and player stats of other games while watching your current game.
Pregame Coaches' Shows
Watch out of market pregame coaches' shows before the big game.
Short Cuts
Allows Subscribers to watch an entire game in 30 minutes or less.
NFL SUNDAY TICKET TO-GO
This mobile feature lets you watch NFL games on your Ipad, smart phone or computer.
JetBlue
View NFL Sunday Ticket games while traveling on JetBlue.
See games in other coutries with International Distribution
Direct TV Sunday Ticket is also available in Canada, Latin America, Mexico, Bermuda and The Bahamas.
Canada
Available non-exclusively to the following cable and satellite providers:
Access Communications
Bell TV
Cogeco Cable
EastLink Cable
MTS
Rogers Cable
SaskTel
Shaw Cable
Shaw Direct
TELUS Optik TV
TELUS Satellite TV
Vidéotron
Westman Communications
Mexico and Central America
South America and Caribbean
My Biased Conclusion...
Direct TV NFL Ticket (Directv NFL Sunday Ticket) is the ultimate football package for the die-hard football fan! With this package you can see more NFL games then anywhere else. If you are a new Direct TV Customer and are willing to wait, there is usually a new Customer offer made every fall called the "4 free months offer".
The Direct TV NFL Ticket "4 free months offer" will usually give you the Premier programing package if you just pay for the Sunday Ticket. If you take advantage of this offer, I would caution you to understand what you are getting into!
You need to understand you are usually agreeing to a 2 year commitment, your monthly payment will go up after the NFL season ends and if you don't want this to happen, you need to change your basic programing package as soon as your "New Customer Offer" is over. If you fail to do this, you will get the unpleasant surprise of a higher monthly bill!
Also, keep in mind that you are most likely automatically signed up to auto-renew the Direct TV NFL Ticket, the next year and every year thereafter. You usually see this charge on your bill sometime during the summer following the NFL season. If for some reason you don't want the Sunday Ticket, be sure to proactively take it off you bill and get a credit for any unwanted charges.
The reason I'm telling you about this is because I saw many Direct TV Customers who were unaware and extremely unhappy about the unpleasant increase in their bills! My hope is that by educating you on what to expect, that you will be happy with your purchase.
If you finished reading about the "Direct TV NFL Ticket", check out my "Direct TV Channel List" page!
Custom Search